Post with 23 notes
Verse I: Recognize your own true nature (The Base) "This fresh immediate awareness of the present moment, transcending all thoughts related to the three times (past, present, future), is itself that primordial awareness or knowledge (ye-shes) that is self- originated intrinsic awareness (rig-pa)."
Verse II: Choose the state of presence (The Path) "Whatever phenomena of Samsara or Nirvana may manifest, all of them represent the play of the creative energy or potentiality of one's own immediate intrinsic awareness (rig pa'i rtsal). One must decide upon this unique state for oneself and know that there exists nothing other than this."
Verse III: Continue in the state with confidence in liberation (The Fruit) "Whatever gross or subtle thoughts may arise, by merely recognizing their nature, they arise and self-liberate simultaneously in the vast expanse of Dharmakaya, where Emptiness and Awareness are inseparable (gsal stong gnyis med)."
~ H.H. Dudjom Rinpoche's Comments on Garab Dorje's Three Vajra Verses or The Three Statements (translated by John Reynolds)
Photo with 11 notes
An important Nyingma lineae holder, Dzongsar Khyentse Chokyi Lodro represents the mid-way link between myself and Rigdzin Jigme Lingpa (1730-1799).
Photo with 1 note
Like the bodies of practitioners, these stones are part of a Nirmanakaya manifestation. Quarried from native American hills, they will be used to build the earthly form of the Lotus Mandala of Inconceivable Wisdom.
(photo taken at Padma Samye Ling, Delaware County, New York, main seat of two Tibetan brothers, both Nyingmapa masters, the Khenpo Rinpoches)
Post with 1 note
On the morning of March 17, 1714, Chögyal Terdag Lingpa said, "I must take seven steps toward the East". He then rose and after walking seven steps, sat down cross-legged and, as his Last Testament, said:
"Appearance, sound and awareness are deity, mantra and dharmakaya,
Infinitely pervasive as the display of the kayas and primordial wisdom.
May practitioners of the great, profound and secret yoga,
Remain inseparable from the innermost one taste awareness of wisdom mind."
He then said, "Now the dakinis have arrived to usher me on" and raised his hands as if playing the damaru and bell and with a contemplative gaze, sitting in meditation posture, passed into Parinirvana amidst many wondrous omens.
Photo with 3 notes
Oneself is Vajrayogini and in the sky in front, the root teacher manifests in the form of Padmasambhava.
~Dudjom Rinpoche, The Preliminary Practice of the New Treasure of Dudjom
Post with 1 note
There are to be seen countless dakinis:
some of them have eyes that dart out sun rays;
others give rise to thunderclaps and ride water buffaloes;
others hold sabres and have eyes which inflict harm;
others wear death's heads one above the other and ride tigers;
others wear corpses and ride lions;
others eat entrails and ride garudas;
others have flaming lances and ride jackals;
others, five-faced, are steeped in a lake of blood;
others in their numberless hands
carry many generations of living beings;
others carry in their hands their own heads which they have severed;
others carry in their hands their own hearts which they have torn out;
there are others who have made gaping wounds in their own bodies
and who empty out and devour their own intestines and entrails;
there are others who hide and yet reveal their male or female sexual organs,
riding horses, bulls, elephants.
~ Padma bKa'i Thang,
The Life and Liberation of Padmasambhava, The Sojourn in the Cemetery of Chilly Grove, c. 22, Dharma Publishing, 1978
"If his horned headdress is similar in meaning to examples found in Mesopotamia and Iran, the figure may be divine. The arrow-shaped forms emerging from his shoulders and under his arm may represent snakes or lightning bolts."

Central Asia (Bactria-Margiana), c. 1000 bce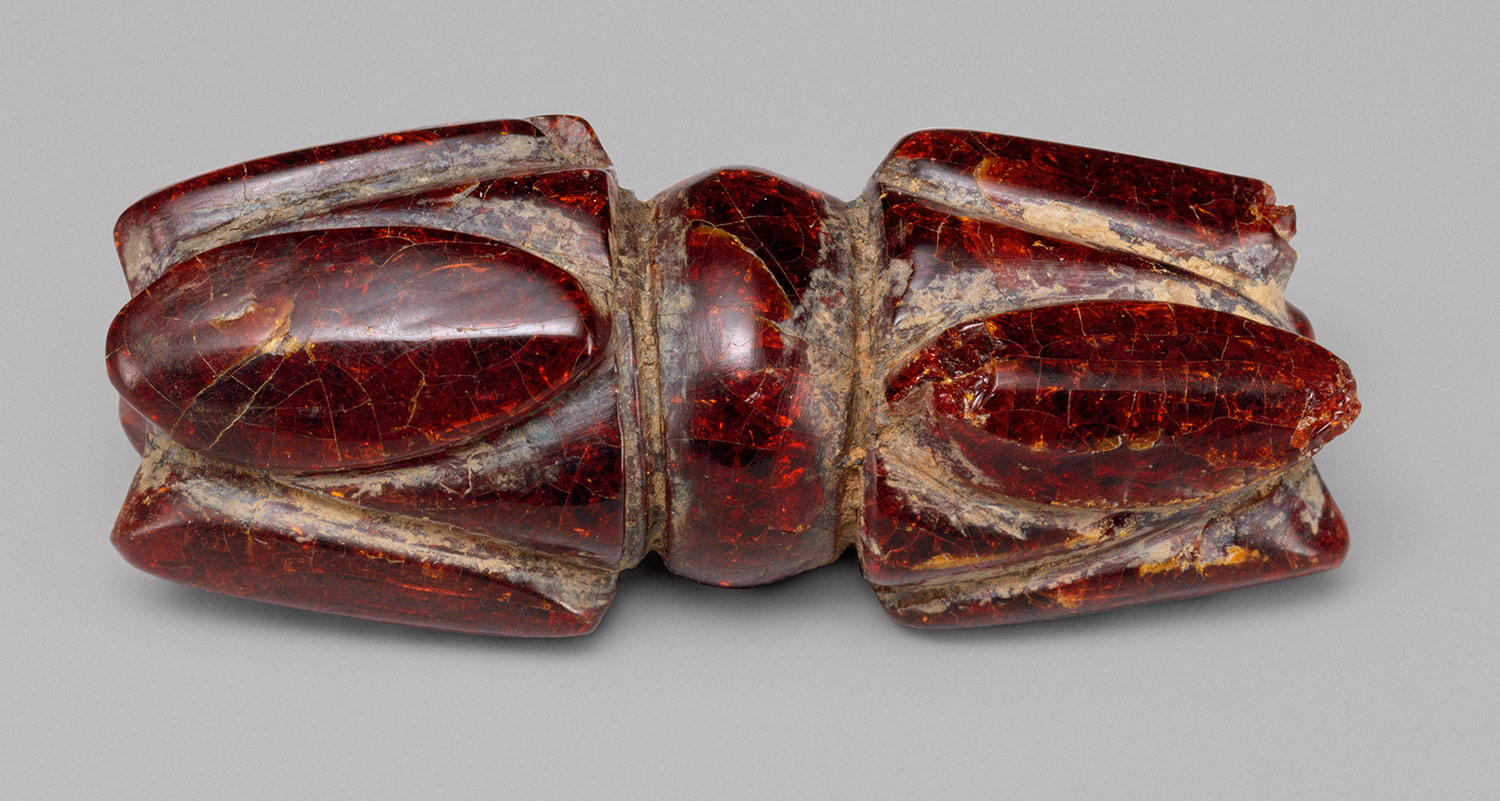 Thunderbolt Pendant, Italic Amber 5th century bce
Post with 1 note
Adad,  Assyrian storm god 7th c. bce
One of the earliest depictions of a stylized thunderbolt which will eventually be wielded by Indra in Vedanta, and Vajrapani (among others) in Buddhism.  Indra rides a grey elephant (storm clouds) akin to Adad's bull.
Photo with 3 notes
SRI RAMAKRISHNA
(1836-1886)
"Gurus can be had by hundreds of thousands. Everybody is anxious to be a master. How many are there who would care to be disciples?"
my favorite Hindu realizer; today marks the 174th year after his birth in the village of Kamarpukur, Bengal